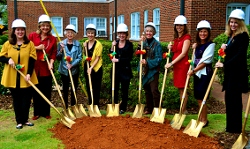 Alumnae Facebook group:
DON'T MISS UPDATED PHOTOS BELOW!
---
From Lucy Newton, Alumnae Relations Coordinator for Psi Chapter...
I am so excited to be working with our alumnae this year! Psi has a rich tradition of excellence at the University of Alabama as a result of alumnae support from across the country! We would love for you to stop by on home football game days for a meal at the house. This is a great way to meet active members and reconnect with other alums.
Excitement is building with our new chapter house under construction a few doors down the street. A link to our NEW HOUSE BROCHURE is provided at the bottom of this page so our alumnae can take a closer look at the plans and participate in our Capital Campaign. For more information, contact Nancy Richeson Siniard at nsiniard@totalcommarketing.com or Amy Owen Lawson at amylaws@bellsouth.net.

We would like to express our appreciation to alumnae who participated alongside of us during rush week. With almost 2,000 girls coming through, we depended on this participation to make things a success.
Recommendations for Potential New Members must be received by July 1st each year. Forms may be accessed below.
Please send recommendations and correspondence to agdrush@gmail.com OR mail to:
Alpha Gamma Delta
Attn: Membership Coordinator
P. O. Box 866389
Tuscaloosa, AL 35486
Sincerely,
Lucy